Travelling with children
Travelling with little ones shouldn't be a hassle and we want to make travelling through Perth Airport as easy on families as possible.
Security screening
Special assistance and family lanes are available at T1 International and T1 Domestic. These lanes are wider and give you and your children a little more time and space to get organised and get through security.
Travelling with baby products
There are no restrictions on baby products such as baby food on domestic flights.
If you're travelling with an infant or toddler on an international flight, you're allowed to carry a reasonable quantity of baby products through security screening and onboard the plane, including but not limited to:
milk

sterilised water

juice

baby food in liquid, gel or paste form, and

disposable wipes.
For more information about powder, liquid, aerosol and gel exemptions for baby products, visit the Australian Government's TravelSECURE website.
Children's play area
You'll find a state of the art kids play space at T1 International (after passport control) to keep your little travellers amused while you wait to board (or to tucker them out before a long international flight!)
Your kids will love the interactive play space and awesome arcade games – there's plenty to play, climb, explore and inspire their imaginations.
Best of all – its conveniently located next to Haymarket on level 2, so you can sit back and relax while watching your kids burn off some energy before take-off!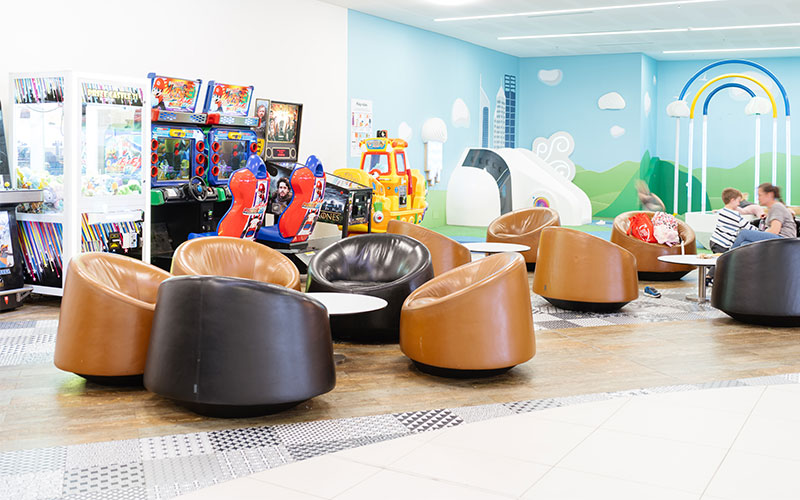 Parenting rooms
All terminals have dedicated parenting rooms available. Each change room is equipped with baby change facilities, a feeding chair and nappy disposal bins. Some also have TVs and toys to keep your little one occupied. Please refer to the terminal maps for the most convenient facilities.
Prams
Prams are available on request, please discuss with the airline check-in agent to organise for you. If you are visiting one of Perth Airport's domestic terminals and aren't travelling, your pram must be screened before being taken into the secure area.
Children-friendly dining options
No matter what terminal you are travelling from, there are plenty of options for little hungry tummies at Perth Airport.
Terminal 1 International
Terminal 1 Domestic
Terminal 2
Terminal 3
Terminal 4
Tips for travelling with children
We recommend you check the SmartTraveller website for some good ideas to consider when travelling with children.